Applications of minimally invasive cardiac output monitors
International Journal of Emergency Medicine
2012
5:18
Received: 27 September 2010
Accepted: 24 April 2012
Published: 24 April 2012
Abstract
Because of the increasing age of the population, critical care and emergency medicine physicians have seen an increased number of critically ill patients over the last decade. Moreover, the trend of hospital closures in the United States t imposes a burden of increased efficiency. Hence, the identification of devices that facilitate accurate but rapid assessments of hemodynamic parameters without the added burden of invasiveness becomes tantamount. The purpose of this review is to understand the applications and limitations of these new technologies.
Keywords
Pulmonary Artery CatheterPulse Pressure VariationStroke Volume VariationPulse ContourPulse Contour Analysis
Review
The ultimate goal of any hemodynamic monitoring system is to provide the clinicians with additional information on the underlying pathological condition and to guide fluid or vasopressor therapy. Cardiac output measurement and its response to therapeutic interventions are frequently used in critically ill patients. As the use of CO monitoring devices increases today, it is necessary to understand the application of such devices in different clinical settings. For many years pulmonary artery catheter (PAC) thermodilution cardiac output assessment was the monitor of choice for the management of critically ill patients. Thermodilution is a modification of the original indicator dilution techniques in which the injectate has a defined volume and temperature from which the thermodilution curve is generated [1]. As with the other indicator dilution techniques, CO is calculated from the area under the indicator thermodilution curve using the modified Stewart-Hamilton equation [2]. PAC was first used in dogs, and subsequently in humans 50 years later [2]. PAC provides valuable measurements, including right atrial pressure, right ventricular pressures, pulmonary artery pressures, pulmonary artery occlusive pressure, mixed venous saturation (SvO2), and CO. The derived hemodynamic variables are systemic and pulmonary vascular resistances. The major obstacle for the use of PAC has been the lack of demonstrating patient benefit and its level of invasiveness. Several prospective trials have demonstrated the lack of benefit from PACs. The PAC-man trial indicated that the routine placement of PACs had no effect on morbidity or mortality, and the ESCAPE trial found no difference in mortality or length of hospital stay when PAC parameters were compared with clinical assessment in the management of severe congestive heart failure patients [3–6]. Furthermore, for using PAC now, many physicians have lost the training, confidence, and familiarity with its use. PAC should probably be used only in selected patients by experienced practitioners. Contraindications to the insertion of PAC include tricuspid or pulmonary valve endocarditis/mechanical valve and right heart mass or thrombus. Like the PAC, each of these newer monitoring modalities requires education and training for effective use. For emergency room physicians, each technology provides a set of advantages and limitations. Minimally invasive cardiac output monitors allow for time efficiency in the emergency department setting and provide valuable information regarding the overall cardiovascular status of the patient. Declining cardiac index in trauma patients may indicate the need for revaluation of the patient. In general, early goal-directed therapy is usually better in the early phase of critical illness in contrast to late stages for sick patients. Minimally invasive monitoring devices for optimal CO and global oxygen balance may be of particular interest for emergency medicine physicians in the perioperative setting, acute lung injury, hypothermia induction, or preload and fluid responsiveness assessment in the management of septic shock and acute respiratory distress syndrome. Currently the evidence and literature have not necessarily caught up with the trends in the US and Europe with these devices, and partts of the article represent the authors' experience.
Conclusions
With an increasing need for utilization of hemodynamic monitoring due to the aging population, increased comorbidities and increasingly complex interventions and monitoring are becoming incorporated into the standard of care, and the need for hemodynamic monitoring is likely to increase. Because of the inherent limitations and complications of PAC in the busy emergency department, physicians are looking for less invasive devices to measure CO. There is no gold standard for the clinical measurement of CO. Therefore, comparison of these new technologies is somewhat challenging (Table
1
). The level of invasiveness and complexity may help the clinicians decide where to best use the devices (Figure
4
).
Table 1
Cardiac output monitors
Advantages

Disadvantages

PAC

Pulmonary infarction

Measure CVP

Rupture of pulmonary artery

Intermittent and continuous

Arrhythmias

SVR can be obtained

Need right heart catheterization

Pulse wave

Analysis

A. PICCO

Intermittent and continuous

Need a central venous access

Measures GEDV/EVLW

Estimate preload

B. LIDCO

Intermittent and continuous

Cannot be used if patient on lithium or NDM

SVR can be obtained

Need frequent blood drawing

Does not estimate preload

C. Flo-trac

SVR can be obtained

Not reliable in very high CO state

Measure PPV/SVV

Perform poorly with tachyarrhythmia

Many validation studies

Valvular pathology prevents accurate reading of CO

Esophageal Doppler

Less invasive

Needs intubated patient

Simple to use

Only measure descending aortic flow

Not good in AR

Echocardiography

Provides detailed cardiac information

Needs additional training

Estimate preload

Inability to image patient

Bioreactance

Non-invasive

Numerous mathematical assumptions

Continuous

Signal stability fails after 24 h

Sensors can be placed anywhere in thorax and back

Bioimpedence

Continuous

Numerous mathematical assumptions

Difficult to set up

Signal stability fails after 24 h

Flick's Principle

Easy set up

Not suitable for unstable patient

Provides additional ventilatory parameters

Shunt can affect CO estimation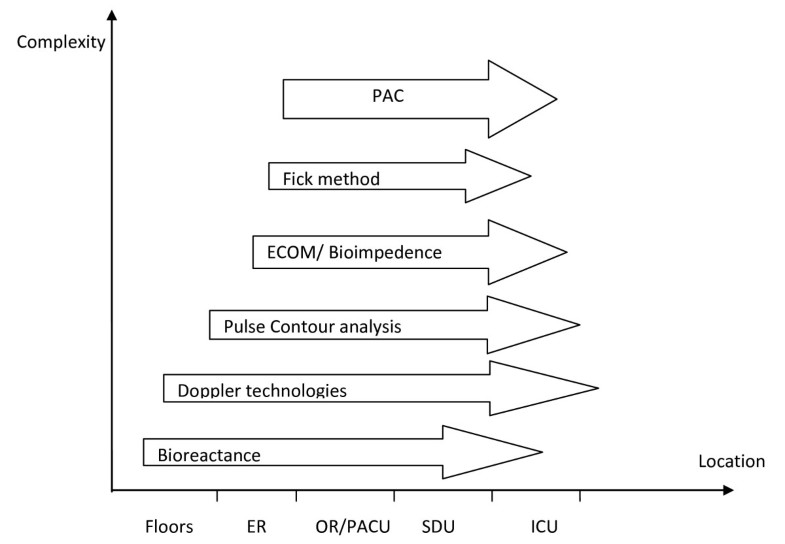 Declarations
Acknowledgements
JP, GZ, SC, and NN contributed towards the article by making substantial contributions to conception, design, acquisition of data, or analysis and interpretation of data and were involved in drafting the manuscript or revising it critically for important intellectual content. No funding was provided for the manuscript preparation.
Authors' Affiliations
(1)
VA Western New York Healthcare System, Division of Critical Care and Pain Medicine, Department of Anesthesiology, State University of New York at Buffalo School of Medicine and Biomedical Sciences, Buffalo, USA
(2)
University of Iowa, Mason City Cardiology, Mason City, USA
(3)
VA Medical Center, Buffalo, USA
Copyright
© Porhomayon et al; licensee Springer. 2012
This article is published under license to BioMed Central Ltd. This is an Open Access article distributed under the terms of the Creative Commons Attribution License (http://creativecommons.org/licenses/by/2.0), which permits unrestricted use, distribution, and reproduction in any medium, provided the original work is properly cited.