Angioedema in the emergency department: a practical guide to differential diagnosis and management
International Journal of Emergency Medicine
2017
10:15
Received: 29 July 2016
Accepted: 28 March 2017
Published: 13 April 2017
Abstract
Background
Angioedema is a common presentation in the emergency department (ED). Airway angioedema can be fatal; therefore, prompt diagnosis and correct treatment are vital.
Objective of the review
Based on the findings of two expert panels attended by international experts in angioedema and emergency medicine, this review aims to provide practical guidance on the diagnosis, differentiation, and management of histamine- and bradykinin-mediated angioedema in the ED.
Review
The most common pathophysiology underlying angioedema is mediated by histamine; however, ED staff must be alert for the less common bradykinin-mediated forms of angioedema. Crucially, bradykinin-mediated angioedema does not respond to the same treatment as histamine-mediated angioedema. Bradykinin-mediated angioedema can result from many causes, including hereditary defects in C1 esterase inhibitor (C1-INH), side effects of angiotensin-converting enzyme inhibitors (ACEis), or acquired deficiency in C1-INH. The increased use of ACEis in recent decades has resulted in more frequent encounters with ACEi-induced angioedema in the ED; however, surveys have shown that many ED staff may not know how to recognize or manage bradykinin-mediated angioedema, and hospitals may not have specific medications or protocols in place.
Conclusion
ED physicians must be aware of the different pathophysiologic pathways that lead to angioedema in order to efficiently and effectively manage these potentially fatal conditions.
Keywords
AngioedemaEmergency departmentHistamine-mediatedBradykinin-mediatedGuideline
Background
Angioedema is a relatively common presentation in the emergency department (ED). The lifetime prevalence of angioedema and/or urticaria in the United States is about 25% and results in more than one million ED visits each year [
1
,
2
]. Angioedema is mediated by several mechanisms, including histamine and bradykinin (Fig.
1
). Diagnosis of the specific type of angioedema is essential for appropriate treatment [
3
]; however, many ED physicians may not know how to distinguish different types of angioedema or how to effectively treat less common presentations [
4
].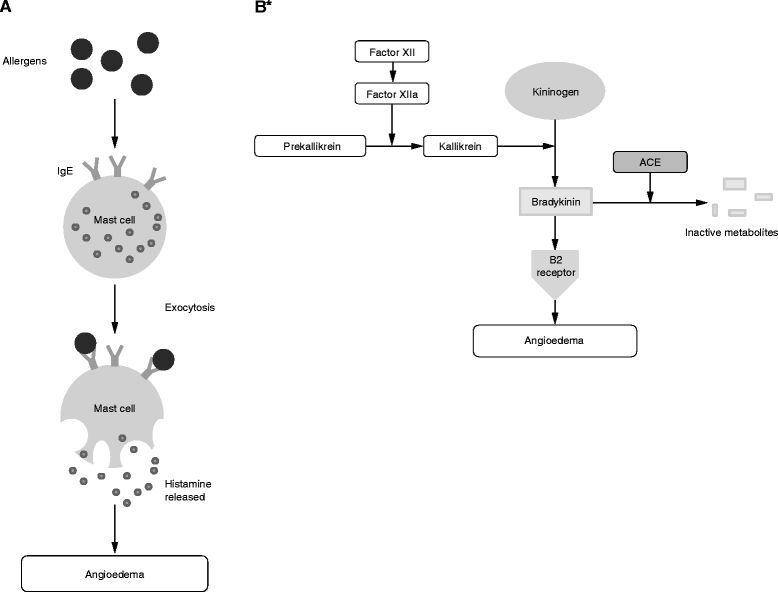 Each year in the USA, angioedema or allergic reactions lead to more than one million ED visits [2]. Of these, approximately 110,000 are coded as angioedema (either hereditary or acquired) compared with 979,400 coded as allergic reactions [2]. Approximately 42.5% of the visits coded as allergic reactions also include a code for urticaria [2]. Between 2280 and 5000 visits to US EDs each year are attributable to hereditary angioedema (HAE) [5, 6], accounting for a rate of 1.87:100,000 ED visits [5]; however, these figures may underrepresent the true level of angioedema-related ED use [2, 5, 6]. Similar data from Italy suggest that 0.37% of all ED visits are related to angioedema [7], and a recent Canadian study estimated that 1:1000 ED visits are angioedema related [8]. Finally, a survey in the UK revealed that 30% of patients with hereditary or acquired angioedema have visited the ED [9].
As ACEi prescriptions have become more common, the prevalence of ACEi-induced angioedema has increased substantially [10–14], accounting for 30% of all ED visits for angioedema in the USA (0.7:10,000 ED visits) and up to 60% in the West Indies [10, 11, 14].
Hospitalization can be used as a proxy measure of the severity of angioedema. Patients with undifferentiated angioedema (i.e., including both histamine- and bradykinin-mediated angioedema) visiting the ED are admitted for inpatient care (11% of ED visits) more frequently than patients with allergic reactions (2.2% of ED visits) [2, 5]. Hospitalization rates following ED visits for HAE (45–50%) and ACEi-induced angioedema (42–66%) are even higher [5, 6, 10, 12]. Hospitalizations for angioedema have increased over the last 15 years, from 3.3 to 3.4:100,000 admissions in 1998–2000 to 4.0:100,000 in 2005 and 5.4:100,000 in 2009 [15, 16]. The rise is thought to be related to increased prescribing of ACEis over this time period [15, 16].
Mortality data for angioedema are lacking; however, one study demonstrated a small but ever-present risk of death by asphyxiation in patients with HAE with development of fatal laryngeal attacks within as little as 15 min [17]. Crucially, the risk of death is three- to nine-fold higher in patients who have not received a confirmed diagnosis of HAE, emphasizing the importance of preparation and awareness in preventing adverse outcomes [17]. Although angioedema with a well-defined bradykinin-mediated pathogenesis is relatively rare, most ED staff will likely encounter a case at some point in their career. Therefore, awareness of bradykinin-mediated angioedema is important.
Because bradykinin-mediated angioedema is uncommon, there generally are not protocols in place in the ED and there is a lack of immediate access to appropriate drugs for bradykinin-mediated angioedema. For example, a recent survey of British EDs demonstrated that medications required to treat bradykinin-mediated angioedema were available in the majority of hospitals with specialist immunology services, but were not readily accessible in the ED (e.g., located in the main pharmacy). Additionally, only half the hospitals surveyed had established guidelines for the use of these medications [18].
Lack of protocols and access to medications can lead to treatment errors and poor outcomes for ED patients presenting with bradykinin-mediated angioedema [19, 20]. This paper reports the findings and recommendations of two expert panels of 16 international experts in angioedema and emergency medicine convened during 2013 [21, 22]. The aim of this paper is to provide practical guidance on the early identification of bradykinin-mediated angioedema in the ED to improve the diagnosis and outcomes of angioedema attacks.
Conclusions
Angioedema is a relatively common presentation in the ED and is potentially fatal. Angioedema management in the ED starts with assessing and securing the airway while initiating specific treatment. To ensure appropriate treatment and management, determination of whether the angioedema is mediated by histamine or bradykinin is essential. With the current lack of a reliable point-of-care test to distinguish the two pathophysiologies, ED physicians should familiarize themselves with available indicators to help guide treatment decisions. Histamine-mediated angioedema should be treated with H1 and H2 antagonists and oral corticosteroids along with epinephrine, as appropriate. Patients with HAE should receive a medication indicated for treating HAE such as a C1-INH inhibitor, ecallantide, or icatibant. Other causes of bradykinin-mediated angioedema may be treated with FFP. Hospitals should ensure that adequate procedures and treatments are in place for the management of angioedema.
Abbreviations
ACEi:

Angiotensin-converting enzyme inhibitor
ARB:

Angiotensin receptor blocker
C1-INH:

C1 esterase inhibitor
ED:

Emergency department
FFP:

Fresh-frozen plasma
HAE:

Hereditary angioedema
NSAID:

Nonsteroidal anti-inflammatory drug
rtPA:

Recombinant tissue plasminogen activator
tPA:

Tissue plasminogen activator
Declarations
Acknowledgements
The original expert meetings were organized and funded by Shire Development LLC. Under the direction of the authors, David Finch, PhD, employee of Complete Medical Communications, and Gayle Scott, PharmD, and Sabrina L. Maurer, PharmD, employees of Excel Scientific Solutions, provided writing assistance for this publication. Editorial assistance in formatting, proofreading, copy editing, and fact checking was also provided by Excel Scientific Solutions and Complete Medical Communications. Irmgard Andresen, MD, and Clement Olivier, MD, from Shire Development LLC also reviewed and edited the manuscript for scientific accuracy. Although Shire Development LLC was involved in the topic concept and fact checking of information, the content of this manuscript, the interpretation of data, and the decision to submit the manuscript for publication in International Journal of Emergency Medicine was made by the authors independently. The authors thank the following contributors: Marco Cicardi, MD, Milan, Italy; Murat Baş, MD, Munich, Germany; Jullien Crozon, MD, Lyon, France; Moises Labrador, MD, Barcelona, Spain; Richard Parris, MD, Bolton, UK; Miguel Zamarano, MD, Madrid, Spain; Giacomo Zappa, MD, Genoa, Italy; Nicolas Javaud, MD, Paris, France; Shmuel Kivity, MD, Tel Aviv, Israel; Alf Reksten, MD, Haugesund, Norway; Richard Sinert, MD, New York, NY, USA; and Kathleen Yaremchuk, MD, Detroit, MI, USA.
Funding
The original expert meetings were organized and funded by Shire Development LLC. Shire Development LLC provided funding to Complete Medical Communications and Excel Scientific Solutions for support in writing and editing this manuscript.
Authors' contributions
All authors contributed equally to this work; all authors contributed to the content, reviewed and revised drafts of the work, and approved the final version.
Competing interests
JAB is a clinical investigator and consultant for CSL Behring, Dyax, Pharming/Santarus, Shire, and ViroPharma (part of the Shire Group of Companies), and a speaker for CSL Behring, Dyax, Shire, and ViroPharma. PC participated in the Hereditary Angioedema Global Forum, organized and sponsored by Shire. TH has acted in a consultant/advisor capacity and lectured/spoken at a company-sponsored meeting for Shire, has received a travel grant from Shire, and has been an investigator in company-sponsored scientific studies for BioAlliance Pharma, CSL Behring, Jerini, and ViroPharma. JH has chaired Shire-sponsored European and global advisory boards on the emergency recognition and management of angioedema and has spoken extensively at Shire-sponsored events across Europe.
Consent for publication
The patient in Fig. 5b consented to publication of the image.
Publisher's Note
Springer Nature remains neutral with regard to jurisdictional claims in published maps and institutional affiliations.
Open AccessThis article is distributed under the terms of the Creative Commons Attribution 4.0 International License (http://creativecommons.org/licenses/by/4.0/), which permits unrestricted use, distribution, and reproduction in any medium, provided you give appropriate credit to the original author(s) and the source, provide a link to the Creative Commons license, and indicate if changes were made.
Authors' Affiliations
(1)
Division of Immunology/Allergy, University of Cincinnati, Cincinnati, USA
(2)
Department of Emergency Medicine, E. O. Galliera Hospital, Genoa, Italy
(3)
Department of Oto-Rhino-Laryngology, Head and Neck Surgery, Ulm University Medical Center, Ulm, Germany
(4)
Department of Emergency Medicine, University Hospital, Liverpool, UK